Anti-Lock Brakes for 2005 Toyota Highlander
No.
Part # / Description
/ Price
Price
2004-2007 Toyota Rear Right OR Left Brake Rotor Highlander
Rotor, Left
Fits Highlander Brake Rotor - Repair or ReplaceIf your steering wheel shimmies when you step on the brakes or your rotors have simply reached their wear limit, consider replacing them with your next brake job. Our Toyota technicians will replace the brake parts in your Toyota with the highest quality parts available?OEM brake parts. 4wd. All. Highlander Hybrid.
Backing Plate
Backing Plate, Right
4wd. All. Right. Highlander Hybrid. Parking Brake.
No.
Part # / Description
/ Price
Price
ABS Modulator Valve
Actuator Assembly
Fits Highlander 2wd. Fwd. Highlander. w/ traction Control.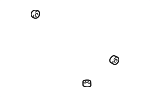 Related Parts
Part # / Description
/ Price
Price